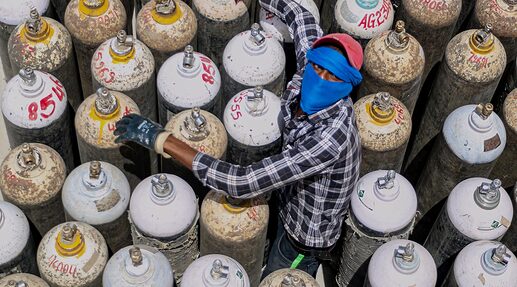 People at a shop refill their oxygen cylinders in New Delhi on Saturday. As Covid-19 cases continue to spike, the capital city is witnessing an acute shortage of medical oxygen cylinders. Delhi Chief Minister Arvind Kejriwal on Saturday also urged his counterparts in other states to provide oxygen to the national capital, saying all available resources are proving to be inadequate owing to the severity of COVID 19.
A passenger is seen transporting an oxygen cylinder in an autorickshaw in New Delhi. Seeing the acute oxygen shortage in the national capital, the Delhi High Court on Saturday directed the Centre and Delhi to coordinate together for arranging the cryogenic tankers to ensure that hospitals are provided with the allocated quantity of Oxygen. Delhi on Saturday received only 305 MTs against the allocated 480 MTs.
The HC on Friday directed the central government to consider the Delhi government's suggestion of allocating medical oxygen from plants located in nearby states. The oxygen supply for the national capital has been allocated from Linde's plants in Odisha and West Bengal.
According to PTI, several hospitals in the national capital have already started using their back up stock due to the scarcity of Oxygen. Many hospitals are advising to shift their patients to another facility or are turning away patients.
Delhi has also requested 'Oxygen Express,' launched by the Indian Railways, for the supply of oxygen from the Rourkela steel plant in Odisha.
In a virtual meeting called by Modi with Chief Ministers of 10 states worst affected by the second Covid-19 surge on Friday, Delhi Chief Minister Arvind Kejriwal told the PM that "a big tragedy" can happen if quick steps were not taken to address the shortage of medical oxygen in Delhi hospitals. During the meeting, the CM also urged the central govt to take over all oxygen plants in the nation with the help of the Army.
Meanwhile, the government on Saturday exempted basic customs duty on import of COVID vaccine, medical-grade oxygen, and related equipment to manage the availability.
Source: The Indian Express