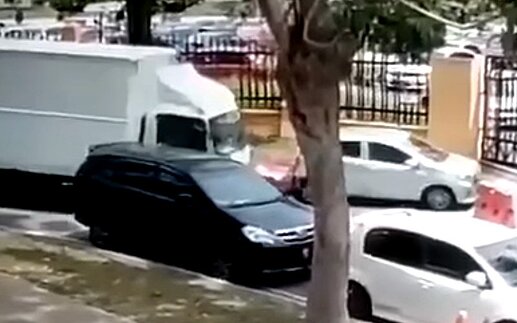 PUTRAJAYA: Ten cars parked on a road shoulder behind Parcel E of the government complex here were damaged after being rammed by a lorry today.
Putrajaya police chief A Asmadi Abdul Aziz confirmed the incident, which was recorded by a CCTV camera.
He did not discount the possibility that the cars which were parked on both sides of the road had impeded smooth traffic movement, making it difficult for other vehicles to pass through.
"From the CCTV recording, I can see that the road was narrow.
"Maybe the lorry driver had waited long enough for the car owners to come and move their vehicles. But none came to move their vehicles, so the lorry driver forced his way through and it resulted in the lorry hitting and grazing the sides of the cars," he said.
Asmadi said police have tracked down the lorry driver and they would be taking statements from all involved, adding that the case was being investigated under Section 42 of the Road Transport Act 1987.
Source: Free Malaysia Today